Yes, for most people this is Christmas but not for me. My favorite time of year is
HALLOWEEN
baby!!
Seriously, most people have Christmas traditions; we have Halloween traditions. Don't worry, we have a few Christmas traditions as well.
This year was even grander than years past. What can I say, I was trying to make up for not being home and not being able to hold these traditions last year. Blah, blah, blah.. on to the traditions you say?
*October 1st:
October 1st is a day set aside for putting every Halloween decoration I own around the house. It usually takes most of the day due to the spider webs that take forever sometime to get right.
It is also the first day of carving pumpkins. I see it as a great kick start to the season, we get our family carving done, so we know the kids have carved a pumpkin (yes when I say kids I only mean Ethan) and its a great Family night activity for the week.
*Mondays:
(and I do mean every Monday)
At the beginning of the month we put together a list of families we would like to have over to carve pumpkins. We brake it down and separate everyone into a Monday. We hand out invitations, or text when it gets too close, and bring the 8 ft table upstairs.
It was a couple Mondays with a crazy house full of kids, food and plenty of fun carving up the pumpkins. We ended up with some great and original jack-o-lanterns. Enjoy!
Monday the 8th we had the Rogers, Jenkins, Pattersons, Johnsons and Bagleys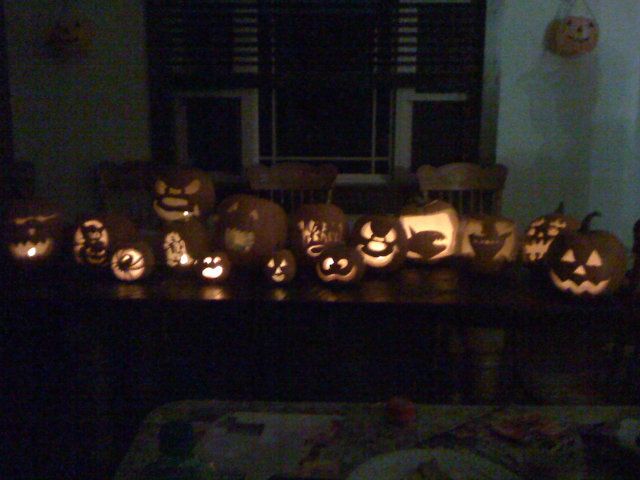 Monday the 15th we had the Crows, Godfreys, and Hawkins's
Monday the 22nd we had the Thomas's, Marcums, Georges, Colsons, and Stevens's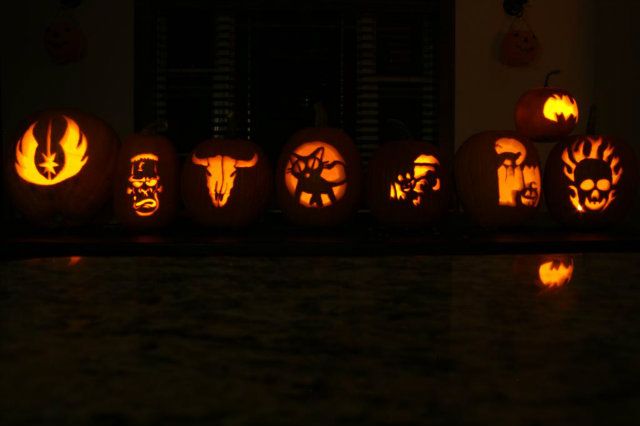 We weren't able to get a picture of all the pumpkins since some families had to leave a little early.
This year October 1st landed on a Monday so that worked out well. I wish I would have taken photos of our carving, but for some reason I can't remember I didn't take any. So close your eyes and imagine a Storm trooper, a rebel emblem, and a fence, cat, moon scenery. Awesome right??
*The Decor:
Every season I get to add one more decoration to the decor. I am exceptionally proud of this years pick.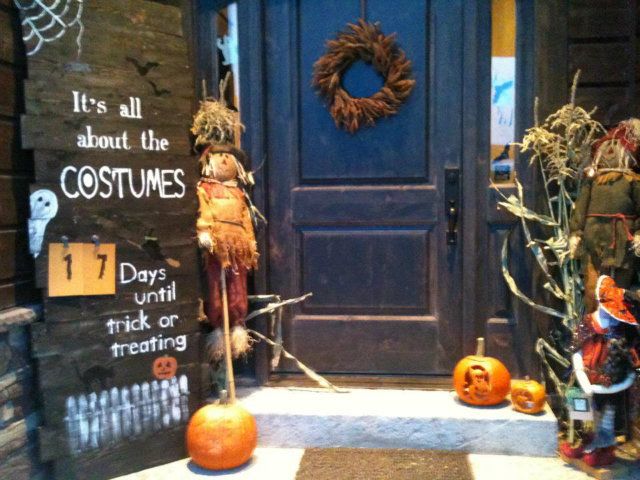 Isn't that just AWESOME??
What makes it even better is the fact that I made it myself... alright, with the help of Terry and his mad wood cutting skills.
Terry cut all the wood to my specs and i put it all together.
I screwed it all together
Painted it to the right shades
Made the stencil
Painted the lettering and characters
Printed the countdown numbers
and put it in the entryway
I love the way it turned out. The original that i based my sign from said "its all about the candy" and had candy corn all over it. For me, I could care less about the candy. Its all about the costumes, its the one day a year I get to dress up and no one thinks I'm strange. Well stranger than they already do.
*The Costumes:
Oh the costumes!! this year Bill and I had the opportunity to go to Disneyland and to Mickey's Halloween Party. When we go again, it will be during the Halloween season. I saw more elaborate and original costumes at the party than I have ever seen. It was spectacular!! (more about this in another post).
Ethan finally (and I say that rolling my eyes) decided on Batman. Unfortunately for me it was decided as I was 3/4 done with his bat costume. You would think I could just switch it over, but nope, didn't look right at all. Luckily he spent a few days at Grandma Ellett's and she whipped him up a costume suitable for Batman. Ethan drew up the mask and I cut it out. He loved it, so I couldn't change it.
James was Ironman. He has been obsessed with Iron Man since Avengers came out. It ended up being cheaper for me to buy the costume than to make it, so that's what happen. I did make him "Ironman hands" back in September, which worked out great as an addition to his costume.
Adam got to be Yoda. All the boys have now been Yoda at one Halloween or another. It was great and he kept the hat on the whole time.
I, of course, was my normal witch. I'm still missing a hat, but I'm particular about what it looks like so I will continue to be hat-less until I find it.
Bill put on his Jedi cloak and pulled out his certified replica lightsaber, which got more attention the darker it got.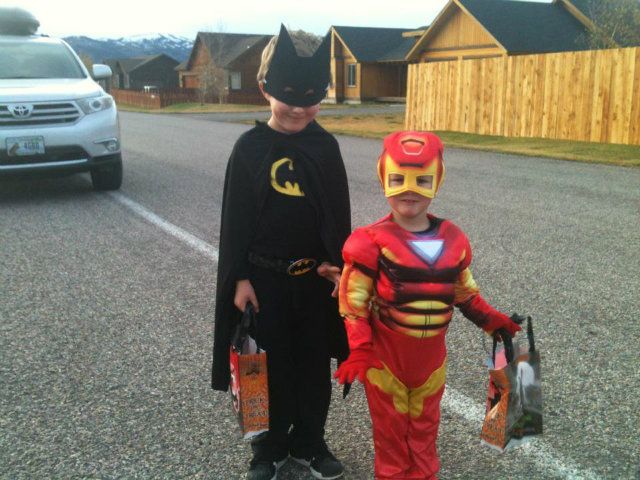 *Trick-or-Treating:
Apparently last year the trick-or-treating was crazy in our neighborhood. Makes sense, we are one of 3 neighborhoods in a 10 mile radius. So I thought I was doing good getting 11 bags of candy.
Boy was I wrong!
This year is the first year our ward did not hold a trunk-or-treat, thank heaven! I'm not a fan of trunk-or-treat. I see the advantages to those who live a bit out of the town, but what would end up happening is this; Our ward would park our cars and hand out candy while everyone in the valley (and I do mean the ENTIRE valley) would come drop their kids off and then pick them up when they were done. Then you get the ones that keep going around and around like they are tied to a horse pull. Anyway I'll get off my box and continue with the night.
Needless to say it was CRAZY! the amount of people made me grin. Most everyone parked by the entrance and the mailbox building, so the only through traffic was those that live in the hollow. It was incredible. Bill and I split the hollow in half and I took Ethan and James out first. We were able to walk down the middle of the street without worrying about a car. There were kids of all ages and costumes running everywhere with parents dressed up walking and talking with everyone. It was nostalgic. It was the first Halloween we have had up here that was truly how Halloween is supposed to be.
Oh! did I mention the headless horseman that was riding around the hollow?
*Updated picture. Thank you Ashley for the awesome picture*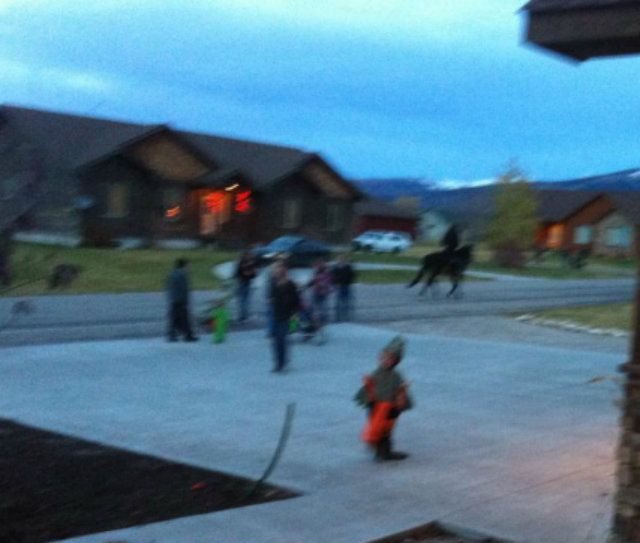 The picture isn't that great(I'm trying to see if anyone else got a good picture). Yup, that's right. Bet ya can't say you saw a headless horseman while trick-or-treating.
The only down side was the candy. I didn't plan for the amount of people that came! I even dumped out James's bag and passed it out. By 7:15 we were out of candy. There was one cool parent who came up with his kids and had a big bag of candy in his hands. He grabbed a handful and dumped it back into my cauldron I thought that was really neat that he would think to do that. So all in all we passed out 12 bags of candy and there were still people going close to 9.
Next year I will be looking for candy donations. if you don't have my address i'll be happy to correct the problem!
This
Halloween
was one of the best I can remember. I can't wait to see what next year brings!