Thursday, February 23, 2012
Monday, February 13, 2012
Friday February 10th James turned 2!
I still can't believe he is already 2. Not because he isn't acting like a 2 yr old, because he is ALL about being a 2 yr old. It just doesn't seem like it was 2 years ago he was born, Bill and I at the hospital, Ethan at the Thomas' and both moms ready to head on up.
At 2 he:
climbs on, over and under everything.
thinks he is tall enough to see over the counter no matter what he brings to stand on.
loves mac and cheese, quesadillas, chips, popcorn, grapes, apples, bananas, juice and ice cream.
hates any kind of orange, meat, vegetables and pretty much anything we make for dinner.
is the sweetest thing, constantly giving everyone hugs and kisses. If you get hurt or upset, he is the first one there to comfort you.
has the best pouty face ever. He doesn't like to see you when he pouts so he will hide his head or leave the room.
loves to wrestle and play with Ethan and Papa
loves to draw on anything he can. Including walls, couches, recliners, tables...
is getting better and better at speaking every day
favorite words: Juice, Eat, Papa, Mama, Ethan, Adam, Buzz, Woody, Banana
can't go a day without playing with Buzz, Woody, Mater or Lightening McQueen and basketballs
loves playing and being next to Ethan
loves kissing and hugging Adam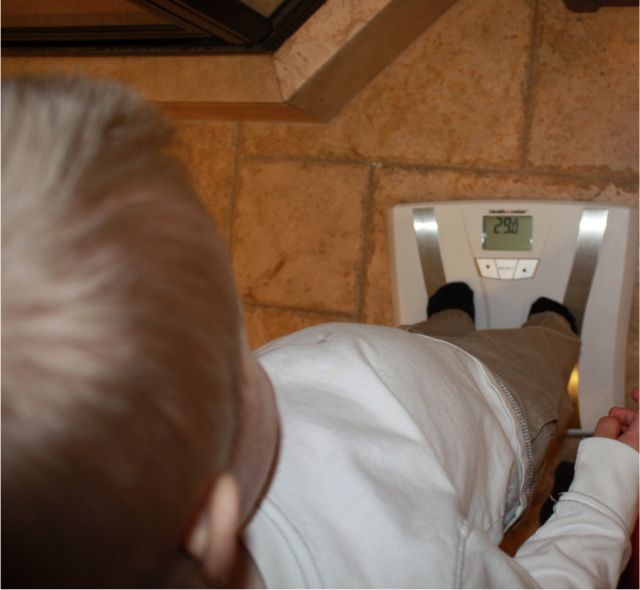 (29 lbs)
(35 inches tall)
James, you are such a delight and joy to have in our family. You are the epitimy of boy and always on the go. You already keep us on our toes and we love everry moment we have with you.
We Love You!
Posted by

Fritsch Family
at 12:58 PM
1 comment:

Friday, February 10, 2012
Monday we had Adams 3 week follow up with Dr. Skarda.
I was hoping Adam would be upwards of 12 lbs or more. He was eating well but he had lost so much from the surgery. He weighed in at 11 1/2 lbs. Dr Skarda was pleased with his weight and explained with that major of surgery it would take 3-4 weeks to get back on track. I still wasn't happy but content that things were progressing.
Dr Skarda said his incisions looked wonderful and lungs sounded great but wanted to check the fluid to make sure it wasn't building.
As long as the chest X-ray looked good then we wouldn't need to come back and see him.
On the way home he called letting us know the X-ray looked great. The fluid pocket had actually receded and he was extremely happy with everything. What a blessing. There has been so many the past 6 months I can't count them.
Thank you Dr Skarda for taking Adam into your heart, loving him and wanting what was best for him. It was such a mercy that you happened to always be the Dr in when we needed help.
Forever, thank you.
Posted by

Fritsch Family
at 10:34 AM
No comments: